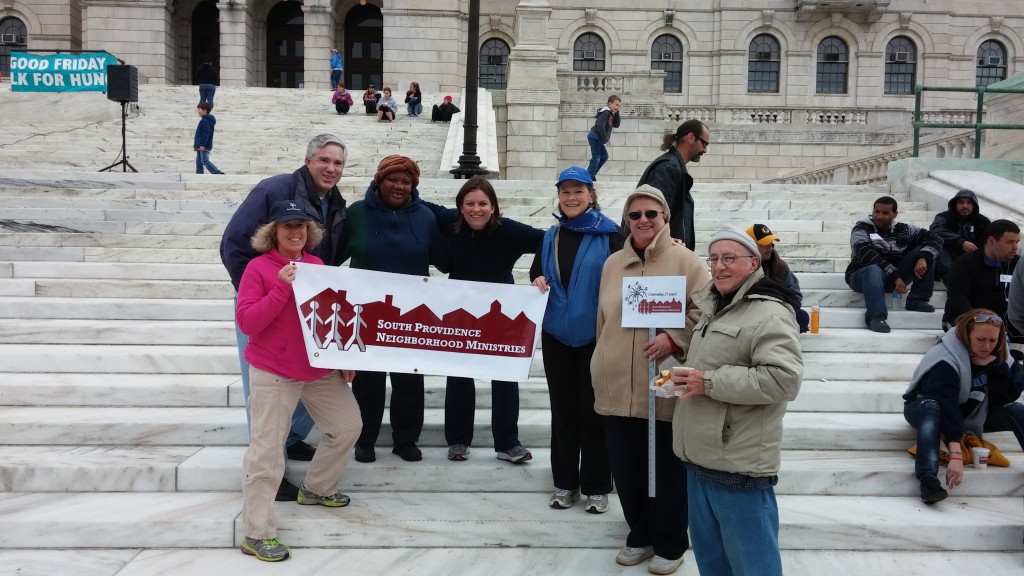 On Friday April 3, 2015 at 9 AM we will walk to raise awareness and support to defeat hunger and homelessness.
Download your sponsor sheet now.
The walk and the rally at the State House will be in Honor of Sr Ann Keefe, who served the people of Rhode Island and Providence through her involvement in many community programs and projects. Sister Ann was co-founder of numerous organizations including the Institute for the Study and Practice of Nonviolence, Providence CityArts, Taming Asthma, The Good Friday Walk for Hunger and Homelessness, AIDS Care Ocean State, and Open Doors. In addition, she helped establish, run, guide and champion a host of other organizations including the Community Boating Center, the Sophia Academy, the Family Life Advocacy Center, Witness for Peace, the Southside Community Land Trust and the Providence Community Library. She also served on many local committees and was the Chair of the Providence Human Relations Commission.
We will step out from South Providence Neighborhood Ministries at Calvary Church, 747 Broad Street. We will walk through the streets of Providence ending at the state house for the rally.
If you cannot walk, please consider sponsoring a walker and/or joining us for the Rally at the State House beginning at approximately 11:15.
The more walkers we have and the more sponsors each walker has, the more money we will raise to help agencies meet food and shelter needs. And the more people will be spiritually enriched…. So, whether this is your 1st, 2nd, or 37th WALK, please join us in this commitment to eliminate hunger and homelessness — not only locally, but internationally!
We are counting on your participation! In the spirit of Jesus' walk to Calvary, walk with us to raise funds to help alleviate the sufferings of the poor.You may want to make this your own spiritual discipline this year and every year – and invite others to join you from your church, school, and workplace.