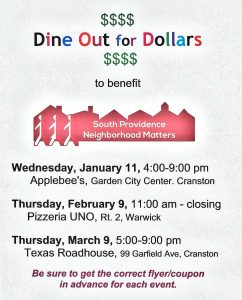 It is a butterfly that spreads its wings and takes flight from its cocoon. It is a whole person who emerges from and takes flight through the care and guidance of his teachers. SPNM helps make productive citizens out of children who are disadvantaged and adrift.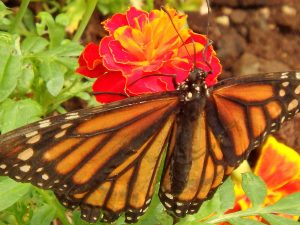 South Providence Neighborhood Matters has been serving families, the elderly, and the disabled on Providence's South side for over 25 years. South Providence Neighborhood Matters provides services and opportunities that encourage self-worth and build a safe and just community of caring, respect and cooperation.
South Providence Neighborhood Matters is an ecumenical, multi-service neighborhood center. It was incorporated as a nonprofit 501(c)(3)organization in 1988 but had operated out of Calvary Baptist Church as an outreach program for many years before then.
Come visit Applebee's in Garden City on Wednesday, Jan. 11! You will enjoy a wonderful meal, and a portion of proceeds will go to SPNM in support of its programs. You need a copy of this coupon. Please print this page and clip this coupon. See you at Applebee's!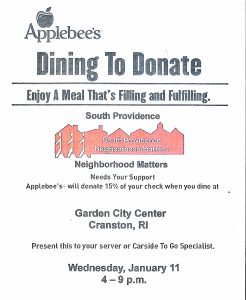 ---

747 Broad Street, Providence, RI 02907-1601
401.461.7509