This year's Ed Shuman Award was presented to Dick Pierce.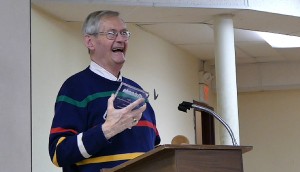 Dick is a trusted and loyal volunteer at SPNM. By the 1990's and perhaps before he was teaching English as a 2nd language to neighbors who might be preparing for citizenship classes for better daily functioning.
He has been a member of the SPNM board of Directors, served as co-chair and continues as chair of the personnel committee and a member of the bed development committee. All along he has been coming on Tuesday as both morning and evening to distribute food through the spnm food pantry.
Dick is a long term member of Phillips Memorial Baptist Church and has served on various boards of the American Baptist Churches of RI.
Dick was a lawyer at Hinkley Allen and Snyder and is currently a member of the RI Election commission.
We appreciate the long term support, personal, financial and official of both Cynthia and Dick Pierce through the years.
About the Ed Shuman Award
Ed Shuman was a long-time, and faithful volunteer who served with great enthusiasm in many capacities at SPNM. When he served regularly as a receptionist, he cheerfully welcomed folks at the door, answered the phone, chatted with staff and volunteers and did whatever was asked of him. He was a Tuesday food volunteer, helping with food set-up and escorting clients. At Thanksgiving he handed out the turkeys, at Christmas he enlisted donations for Santa's workshop, helped set up and staff the distribution. He recruited people and organizations to adopt Louie's Place children for Christmas. And in addition he was also instrumental in providing backpack for our youth. At 88 years old, even after he could not drive, he enlisted folks to drive him to SPNM so he could continue his volunteer service.
Ed played a pivotal role in the daily life of SPNM, his passing not only left a void in the hearts of his family and friends but it also left a void in the hearts of SPNM's staff, board members, and volunteers and everyone who came in contact with him. Even though Ed is no longer with us we still feel his presence.
Each year this award will be given to people with an exceptional commitment to SPNM who exhibits reliability, enthusiasm, understanding, and goes above and beyond in their time and efforts for SPNM.